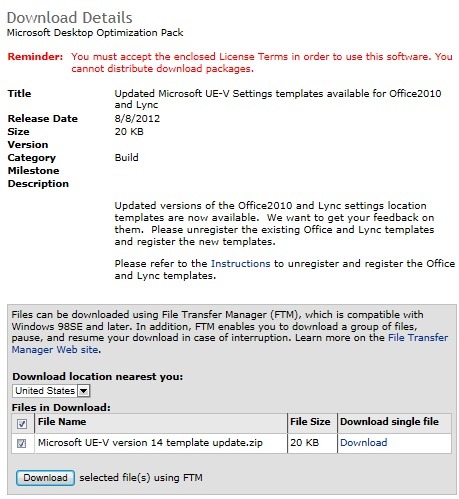 The product team has updated the Office2010 and Lync settings location templates and they are now available for download on the connect site. Please download the new templates and update your UE-V deployment and report any issues via the connect site or your TAP Sponsor.
Download the new settings location templates fromhere.
Pre-requisite:  UE-V Beta2 installed.
Option 1 (PowerShell) :
Open PowerShell as administrator and import the UE-V module

Import-module  uev

Unregister the current Office and Lync templates

unregister-UevTemplate -TemplateId MicrosoftOffice2010
unregister-UevTemplate -TemplateId MicrosoftLync2010

Verify that the current templates (Version 10) are no longer registered

get-uevtemplate | format-table -property TemplateID,TemplateVersion

Delete the old Office and Lync packages from the SettingsStoragePath location
Register the new templates (Version  14)

Register-UevTemplate <Path_To_Template> MicrosoftOffice2010Win32.xml
Register-UevTemplate <Path_To_Template> MicrosoftOffice2010Win64.xml
Register-UevTemplate <Path_To_Template> MicrosoftLync2010.xml
Option 2 (Template Catalog Path):
1. Verify that OverrideMSTemplates registry key is set to True
[HKEY_LOCAL_MACHINE\SOFTWARE\Microsoft\UEV\Agent\Configuration]
"OverrideMSTemplates"=dword:00000001
2. If a Template Catalog path is configured, remove the old templates from catalog and copy the new templates in to the catalog
3. Delete the old Office and Lync packages from the  SettingsStoragePath location
4. Templates will be updated the next time the UE-V scheduled task runs
*For more information on using the Template Catalog Path refer to pg. 33 of the UE-V Admin Guide